The earliest Mück cornet I have found is this one that was made or stenciled by Rudy's father Joseph in the 1920s. Joseph came to New York in 1907 from Moravia and operated under J.R. Mück & Co. by the teens. The 1921 to 1926 period was a partnership called Ohnhaus & Mück. The style would suggest a European import.
This O&M ad is from October 1922

In 1936, Rudy Muck opens a factory and showroom at #125 East 126th Street in the Bronx with the plan to build trumpets as well as his already famous mouthpieces. The following cornets are in order by serial number.
Early cornets are a Bach clone just like the trumpets. Below is a Bach followed by a Muck.

early Citation, serial number not known, same one as above

#827 Citation model looking like an imitation French Courtois

It is said that Citation trumpet #2549 was purchased new in 1959, the year Rudy Muck died. Below is an ad from that year showing the models.

#2600 Academy model

#31551

#63233 Citation

#68379 Conductor

#203000 Academy model

#230951 Citation

#342000

Late import with applied emblem as on the trumpets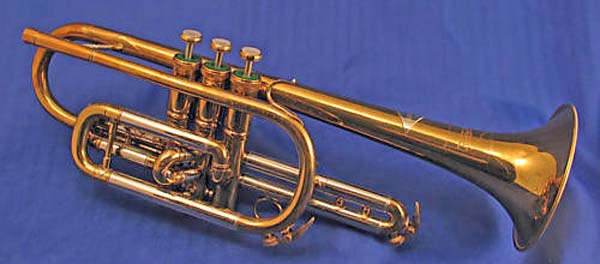 Ad for new Series 97 cornet, undated

Carl Fischer ad drawings for the three Muck models
Citation

Conductor

Academy