Possibly the earliest Mück trumpet I have found is this LaSalle model that may have been made or stenciled by Rudy's father Joseph in the 1920s. It has serial #5626. Joseph came to New York in 1907 from Moravia and operated under J.R. Mück & Co. by the teens. The 1921 to 1926 period was a partnership called Ohnhaus & Mück.
Another J. R. Muck & Co. early trumpet is #21155

In 1936, Rudy Muck opens a factory and showroom at #125 East 126th Street in the Bronx with the plan to build trumpets as well as his already famous mouthpieces. This was a well attended event.
The origin of Rudy's trumpets has many theories and each of the many different styles found have their own variations so this presentation will try to put them all together and make some sense of it. Unlike other makers, like Bach, who have a distinct style for as long as they were made, Muck horns strike me as being stencil horns from other makers or at the least being made using parts from other makers combined with his own. Serial numbers change so much that I have arranged the trumpets by style groups regardless of the serial number.
Blessing / Besson style:
The Blessing Super Artist style have either 3-digit serial numbers or are in the 30000 range. The lowest found so far is #135. These match ads in 1939 and 1940 so may be the first ones Rudy made in 1936.
I had a conversation with Rudy Muck Jr in 2019 who said that Carl Blessing was a friend of the family for many years and although he could not confirm that they were the source, he thought it was certainly possible.
1939 Catalog photos
#135 with hand engraved bell logo - the only difference is the lack of the stop rod on the third slide
#139 this one also has a hand engraved logo yet a little better done
#157 this one lacks the stop rod on top of the third slide and the owner says there is no evidence that it ever had one

#168

Bell from #30000 range

#30004 - if this is a Blessing serial number then it dates to c.1937

Here is a comparison photo with the Muck on top and Blessing below. Some parts will interchange yet the Muck adds a dual-bore design with the bore expanding through the tuning slide. The other changes are moving the slide brace forward , no lock nut on the main slide, different slide knobs, and different valve caps and buttons. The third photo is a 1920s French Besson which is what everyone seemed to try and copy. (Robb Stewart photo)

Here is an ad showing Bob Alexy playing this trumpet with the bottom third slide ring. From what I have been able to find out, Bob played with the Whiteman band from 1938 to 1940.

This 1939 catalog cover shows Rudy holding the same trumpet.

#32300 marked as "Series 97" - these have the Blessing valve blocks yet different inlets and no stop rod so appear to be made at a later date

#32351

#32462 Series 97

#33000 Series 97

Blessing Super Artist #33227 c.1938

Muck #33241 c.1938

#33304 c.1938

#34000 c.1939

Blessing Super Artist c.1939

Blessing Super Artist #40356 c.1946


Bach Stradivarius Copies:
This next group is by far the most sought after by collectors and have serial numbers in the 1000 to 2000 range. My guess is that these were the offering just after WWII and they are copies of the popular Bach Stradivarius. If you look at the serial number list page, the few horns that have purchase dates claim that these are late 1940s to mid 1950s.
According to Rudy Muck Jr, his father knew Bach but never worked for him but it's possible that some Bach parts were used. They would have been competitors but in that industry at the time they were friendly toward each other. The 126th Street shop was about 9 miles from the Bach factory in the Bronx. The owner of #14xx reports that some parts are interchangeable with a 1940s Bach yet the bell and lead pipe inlet are different. The valve casings also have a completely different design.
#1029 showing the updated bell logo using a stamp - a much more economical solution than the hand engraving - most Bach style trumpets have this logo

#1128

#1154

#1196 Citation

#1277 Citation - likely with a replacement water key

#1326

#1425 is said to have been purchased in 1948
#1524 in C

#1667

#1739

One interesting comparison with Bach is in the valve section. Below is Muck #1739 then next is Bach #3382 from about the same time period. The casing joint is quite different.

#1774

#1779

#1866

#1869

French Bell Rim models:
This next group looks to have the same valve section as the Bach copies yet the top and bottom caps have changed and the bell rim has a French style which wraps over the rim another 1/8" back up the bell. The lead pipe inlet changes and the water keys have a square saddle base. The tuning slide brace also changes.
#1005 - this one seems to be out of sequence but who knows with Muck; the stop rod mounts are the same as the Blessing style so this was likely made before the Bach clones; it's the first appearance of the double bands on the valve casing and French style rim

#2033

#2035 c.1956 (author's photo, replacement bottom caps)

#2101 courtesy of Joe Alacqua - purchased in late 1957 - the bottom caps are not original

#2184

#2187

#2386 - author's collection - vertical Citation with simply engraved US logo - this has two engraved lines around the bell which match the late 1950s Carl Fischer ad below - this is a great playing horn!

At this time Carl Fischer owned both Muck and York so I found these two examples to see if the old York plant was the source.
York Baronet #201822 c.1956 - same valve caps and finger buttons

Muck #200307 Conductor model

Muck #2549 is said to have been purchased in 1959
Muck #2592 has the same design as the ones above but is labeled "5M". The photos were too bad to add here. It has a large "Rudy Muck" on the bell the same as the example below.
York 75 #202013 c.1957 - same valve caps, double band on the valve casings, and inlet socket as Muck but who really made them? The York 75th anniversary models seem to be the only Yorks with the same valves as Muck. With Carl Fischer involved, anything is possible. Since there is no country of origin marking, which is required by law, then my guess is that Muck trumpets after WWII used imported European valves and possible bells with parts assembled at the York factory. [An update here is that I bought a York Custom Superba trumpet from the late 1960s with a serial number in the 600000 range that has the same style double band on the valve casings. In a direct comparison to Muck trumpet #2035, the style is similar but the proportions are different. The caps don't interchange but that could be that the York is a large bore.]

#612132 model 5M - similar French rim and valve caps but only a single band on the valves - York trumpets with this serial number range tend to be made in Germany - more about these below

Another oddity is this model 65M Super Six with the same bell rim

Double Band on Valves with Regular Bell Rim:
#2576 Citation - these are the same except for the regular bell rim

#66700 Citation - the first big jump in serial numbers - some minor changes are the adjustable 3rd slide ring, brass lead pipe, and all brass valves

#624145 Citation

#633097 Conductor - this has bottom water keys

#633725 Citation

#664665 Conductor

#682106 Citation

Carl Fischer models:
Carl Fischer ads from the late 1950s show three Muck models; Citation, Conductor, and Academy. Rudy Muck Jr said that after WWII his father was working for Carl Fischer and that at least some of the instruments were built in Milan, Italy. He remembers his father having to fly there to deal with quality problems. The less expensive models like the Academy had bottom spring valves which is mentioned in this catalog page.
Here is another Fischer ad showing the Citation trumpet. This also shows better the style of mouthpiece that came with them. The original ones were stamped "Rudy Muck Cushion Rim" and had the size stamped inside a box, although there are some from this time with no size given.
These are covered above in the last two sections but can fit this section as well.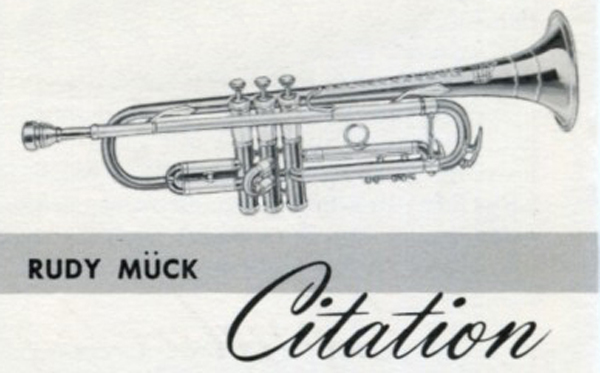 #2386 which fits the ad very well c.1959

The next is the Conductor model - the only apparent difference is the single engraved band around the bell

#191209 - this one may be earlier or later than the above illustration as there are several design differences - they have a different valve section than the Citations with a fat single band in the center and different caps

#200307 Conductor (this may be an error in my list as this looks like a Citation)

#613312 Conductor sharing the same serial number jump

#664665 Conductor

Academy model

#108 Academy

#26289 Academy

#73035

#78xxx Academy

#195992 Academy

There is also a Director model
#174513 Director - all brass with the fat band on the valves

Diamond Badge models:
These trumpets look like the others yet they have an applied diamond name badge and the old style stamped logo.
#158986 Citation

#162927 Academy

This ad appears to match this style

So what about the Italian connection? In looking through the New Langwill Index it seems that the long list of Milan makers can be narrowed down to two. Since Carl Fischer was involved, my first guess would be Romeo Orsi. I found this Fischer / Orsi trumpet which appears to be from an earlier era but proves there was a relationship.
Orsi is said to have made marching band quality horns but that was probably what Fischer was looking for in their Academy models.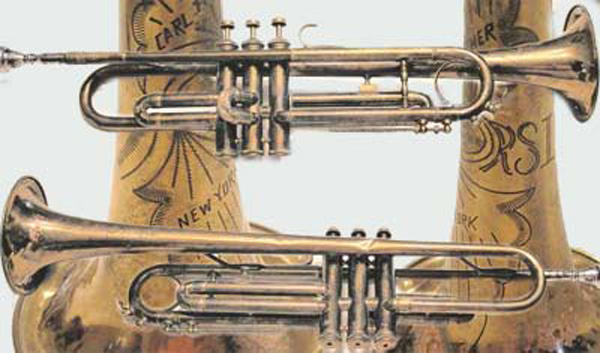 This is a Fischer Artist model made in Italy
The other possibility would be Rampone & Cazzani. They had 150 workers at their Milan and Quana factories in 1947 making both brass and woodwinds so they would have been capable of producing Muck trumpets.
The M models:
This group encompasses several styles but they all have models ending in "M".
2M #1069

2M #2571

2M #3230 marked "Dallas - London" who was a distributor - the valve caps have the same design as other models yet the three band design on the valves is different

2M with unknown serial number - same design

4M model which is a Buffet Balanced model copy - again the same valves and also lead pipe inlet

Evette & Schaeffer model E85 was a Buffet trumpet sold by Carl Fischer and likely made in West Germany by Ernst Modl (1892-1972) [EMO] - did Fischer just rebrand these as Rudy Mucks? These even have the same triple band on the valves and the third slide ring holder at the end.

4M #1561

4M #603854

4M #613075

4M #615038 from Dallas Music

This is the same style built by EMO and is very close to the 7M below


5M #2184 - matching the French rim style

5M #2187

5M #612132

7M balanced model #2700 - these also have the French rim

7M #2798

7M #2860

7M #3500

Buffet #1605 - identical except for the lever

#703 Balanced model with spike pinky ring - where have I seen that before?

Buffet #764 with spike ring - can we say identical

Citation #1050 w/warranty card dated October 1958 (Joe Alacqua collection)

17M Balanced model

EMO World Deluxe model