Boston Musical Instrument Co.
Boss-Tone Trumpet in A-Bb
c.1920
Having picked a c.1922 Three Star Model 11 trumpet a month ago, I became interested in finding the rare Boss-Tone model that preceeded it. One came up for auction but it seemed too beat up for the price but a while later I saw one come up that I knew I had to buy as a keeper for the collection. This one is not only gold plated but has some of the most intricate engraving that I have ever seen. As an introduction, below are two catalog pages from c.1919 that Robb Stewart was kind enough to send me.
The case is in nice condition and only needed a little cleaning and a new handle.
Thankfully this came with all original parts including two gold plated mouthpieces, music lyre, extra tuning slide, and grease cup.
It's in need of a valve job and some plating repair but otherwise is dent free and very straight. This looks to have never been damaged except for a few tiny dings. Enjoy the views!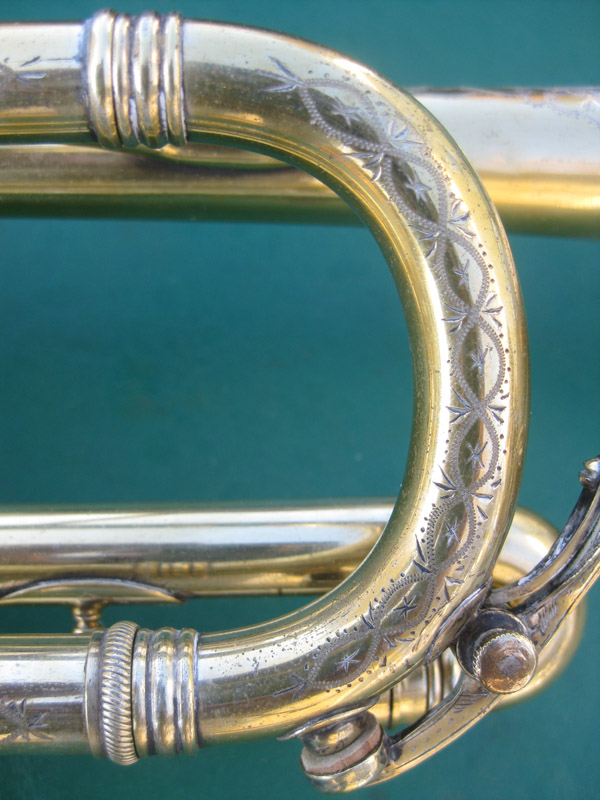 This has the original owner's initials. CMD or perhaps CDM? This came from the Pepperell, Massachusetts area so if anyone knows what wealthy or famous player may have bought this please let me know.
The story is that this was found in the trash in front of a house that later went up for sale. One man's junk is another man's treasure for sure!