Brua C. Keefer
C-Bb-A Cornet
Williamsport, PA
c.1920
The one Keefer cornet that I have been looking for over the years is one equipped with the special Keefer logo finger buttons. They came in either red or blue with the eagle logo and cornet. This one turned up and aside from the tarnished surface it actually looked pretty good.
Despite the tarnish, I could tell that this had gold plated highlights and a great engraving inside the bell. This came from a pawn shop that ended up selling it online but they left their old price tag on it which read $1,099! It seems no one knows what instruments are worth.
Here it is all apart and ready for polishing. The amazing part is that aside from one tiny ding and one spot of light scratches, this thing is in mint condition. The only problem was super stuck slides and Bb/A valve. After several days soaking in penetrating fluid, I finally got all but the second slide out.
Here it is all finished and playing great again. Thankfully the valves are still pretty tight and the original Keefer mouthpiece sounds good. I tried this with a modern cornet mouthpiece and it sounded terrible so I will stick with the old one.
This is stamped with serial #9686, M for medium bore (it measures 0.464"), and HP for high pitch. It does play in low pitch with the long secondary slide so probably is designed for both and would have come with a shorter slide for high pitch. For low pitch Bb you have to pull the slides out a little to a marked line.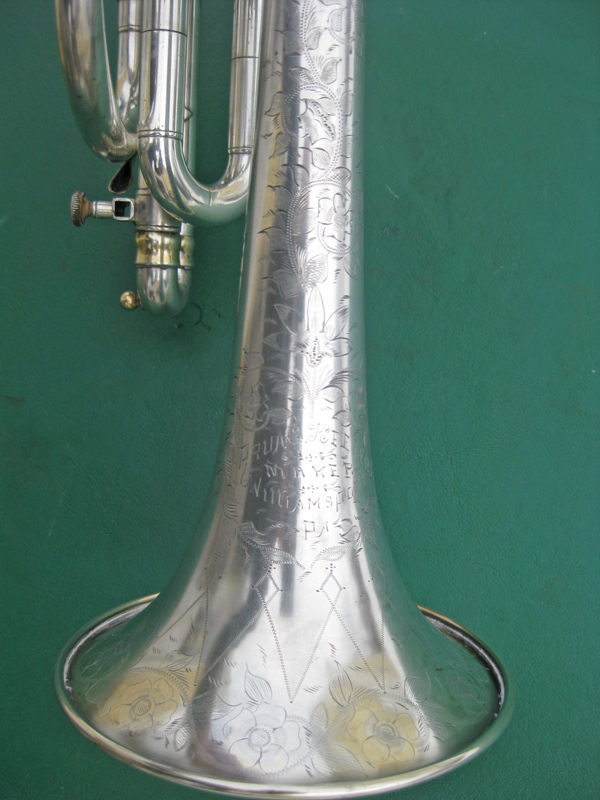 Here is the 1922 catalog page for a similar cornet.
The quest then began for a matching case. A few months later I found a set of accessories for sale that included a mute, lyre, C tuning slide, and two slides for high pitch. I then did a quick search under the same seller and found the case also so bought everything. When I received them, I was happy to find that everything matched exactly. The seller was from Philadelphia and the cornet came from a suburb of that city so is it possible the cornet was reunited with its original case and parts? It seems likely.
The patent refers to the case design by Henry Distin.