Buescher 400
Model 275 Cornet
Elkhart, Indiana
c.1937
The Buescher 400 is a classic Art Deco design and was the top of the line offering for them back in the late 1930s. In February of 1937 they applied for a patent on this unique valve block design with the top and bottom flared out and soldered directly together without bracing. The lead pipe and bell were also soldered direct to the valves, giving it a narrow profile. They received a patent in October of 1938.
This abused example has serial #289650 and "Pat. Apld. For" on the second valve giving it a production date of late 1937 or early 1938. The brass and nickle silver body gives this a really nice appearance but it was far from that when I got it. The case is pretty rough but appears original as I have seen others with the same case.
Here it is when I got it.
Pulling it all apart and accessing the work to be done.
The bell heated up in the crushed area and straight again.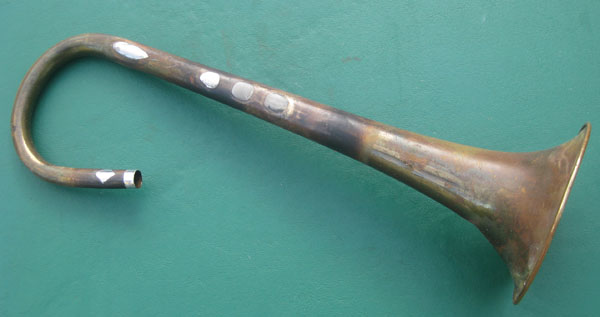 Ready to solder the bell back on
All finished and playing fantastic thanks to tight valves; for now adding a Conn 4 mouthpiece until I can find the correct Duo Cup design.
1939 Catalog illustration