Taylor & Horn
"The Chicago" Cornet
Owned by Frank P. Dudek
Chicago, Illinois
c.1918
I often see instruments for sale with odd names that make you wonder where they were really made. Many such instruments are "stencil" horns which were purchased by music stores from the real makers, often from Europe, then engraved with their own name. This cornet has a really odd name of "F. P. Dudek" with a location of Chicago. Thankfully, my many hours of studying every American maker allowed me to recognize the label inside the case.
"The Chicago" is embroidered inside on the padding and was a model name used by Taylor & Horn of Chicago during their very short existence from 1906 until 1919. Looking up this maker allowed me to find another one matching exactly but with the Taylor & Horn engraving.
Here is the cornet as I purchased it. A little bent and tarnished but otherwise in good original condition. It has serial #977 which is the highest one I have found for this maker so I am putting it near the end of their time in Chicago c.1918.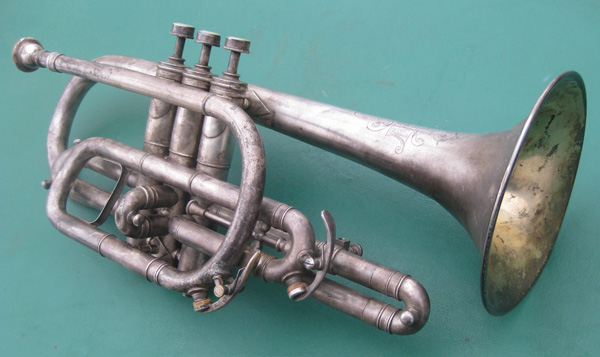 The question then was who is this F. P. Dudek? One would think that this is an uncommon name but apparently there were quite a few Dudeks in Chicago who originated from Poland.
Francis Peter Dudek was born in Posen, Poland in 1878 and the entire family emigrated to the US in 1888. They settled in Chicago and quickly entered the painting business. For many years they had a paint store at #8702 South Commercial Avenue which involved brothers Stanislaus (Stanley), Albert and Frank as well as their mother Elizabeth. This building is listed as being built in 1898 and the Dudeks are listed here in 1900 so may have built this themselves. It's in the center of this row of shops below.
In 1900, Frank is listed as a painter and paper hanger living with his older brother Stanley at #8702 Commercial Ave. They sold paints and religeous articles. In 1902, Frank married Chicago native Emily Scherman (1880-1966) and by 1910, when they lived at #8738 Commercial, they already had three children; Delphine, Marcella, and Frances. He is listed in the census and city directory as a painter.
By the 1920 census, Frank is listed as a self employed musician and teacher living at the same address. By this time, he must have already acquired this Taylor & Horn cornet as that company closed up in 1919 and moved to Naperville. Frank probably knew Charlie Horn, who is listed as a musician in the Chicago directory as early as 1902. When Horn partnered with Leon Taylor, a instrument maker, they made only cornets so it's a good bet that Horn was a cornet player performing in the same places with Frank Dudek. This cornet has the satin silver finish with gold inside the bell.
Below is Taylor & Horn cornet #701 with the same design only this one appears to have all high pitch slides which are shorter than the ones above.
Leon Taylor left the young company in 1912 so it's possible that the later cornets were built by T.M. Koeder, a Naperville native who helped out with the business at times and eventually got Charlie Horn to move there in 1919.
T.M. Koeder in 1942
The 1923 city directory also has him as musician. By 1930, the family had moved to #6742 Cornwall Ave and Frank has no occupation listed. Not an uncommon thing early in the Depression. His three daughters are still living at home.
By 1940, they had moved to #8005 Escanabe and Frank is back to being a musician. His 1942 draft record says he was a retired musician, decorator and clerk. It is likely that he continued to work in the family paint business most of his career and supplemented that with music.
Frank passed away in 1955 and his obituary says he was a member of the American Federation of Musicians Local 10 in Chicago and that he had one grandson, H. Paul Bennett. It is my hope with this web page that some family member out there has more information on and photos of Frank that I can add to this. Please write me.