H. N. White Company
Cleveland, Ohio
Silver Tone Master Cornet model 1065
#250819 c.1942
Since I have a nice Silver Tone trumpet I had hoped to come across a matching cornet to pair it with. This example came up and had the deluxe gold filled engraving as well as being silver plated which is less common than lacquer.
A bit beat up and tarnished but all there and the valves are tight. Here is how I bought it with what I hoped would be the original case but research says not. It's a bit tight for the valves to fit in and no name plate.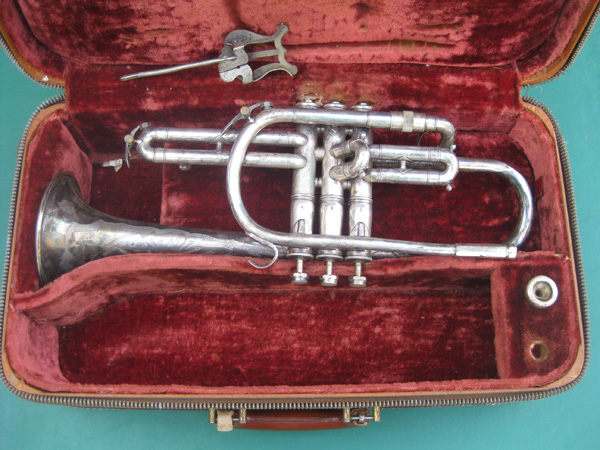 Medium bore is 0.458" and they all came with the 4.625" bell
In 1918 King was granted patents #1,277,012 and 013 for the Master design below.
In around 1928 King introduced the Silver Tone option with a Sterling silver bell. The 1934 catalog lists this option combined with silver plating at $140. They came with this Gladstone case which was used up until WWII.
I decided to find a better case but it's very hard to find one of these styles in good condition that's not with an equally nice instrument; making them very expensive. Although many sellers are trying to get over $1,000 for a Silver Tone cornet, in reality they sell for $300 to $500 and are quite common.
I saw a plain Master model for sale in fair condition but I really liked the case so picked it up. Serial #2777xx would suggest this was made only a few years later yet after more research, I believe this case is actually from c.1960 and should have been sold with a serial number around 370000.
It was a bit dirty but with an hour's work it looked really good again.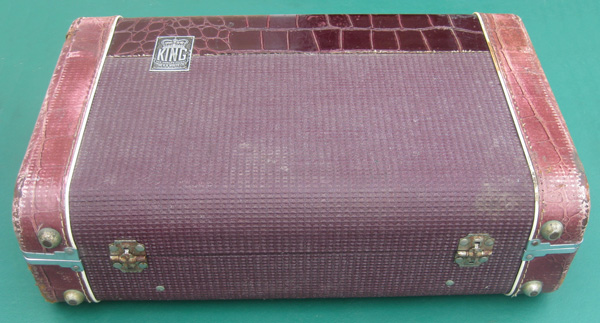 The new case matched up with the older cornet; looks like it was made for it.
Here's the cornet all cleaned up and ready for assembly.