C. G. Conn Co.
The Liberty Cornet
Elkhart
#P16365 c.1920
When I came across this cornet I knew it was a Pan American by Conn but the bell marking was one I have never encountered before. It reads "The Liberty from NY Conn Co Inc."
The New York Conn Company was incorporated in August of 1918 with $25,000 capital by Carl Greenleaf and George Bundy. It was located at #237 W. 47th Street in New York, just down the street from Bundy's Selmer store. A L. R. Anderson was the manager and they were selling the Conn and Liberty lines of band instruments. I had never heard of the Liberty line so am assuming it was an early name for Pan American.
An added inscription at the bottom is "YWCA Central Branch - No.111". The Young Womens Christian Association had is Central Branch in Detroit so perhaps their New York branch bought these then sent them to Detroit. Their office at #2230 Witherell St in Detroit was opened in 1929 but they may have had a location there in 1920 as well. It looks like the women there took very good care of their instruments as this is nearly mint.
If experts out there know more about the Liberty name please let me know.
The only flaw in this is the missing slide stop rod on the bottom of the tuning slide. It has a 4-5/8" bell, is 16" long, and has a 0.460" bore at the second valve. Satin silver finish with gold wash in the bell.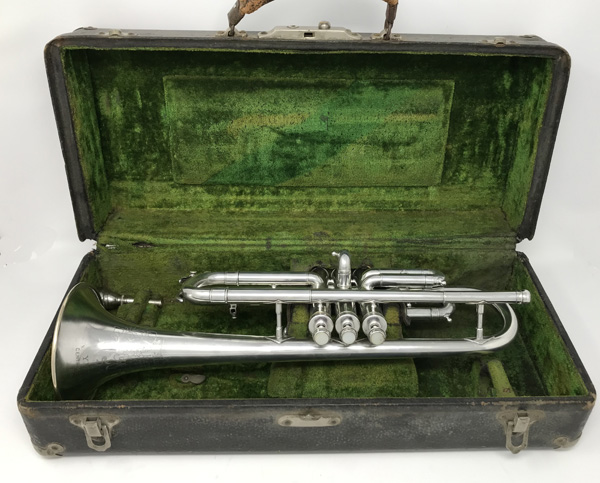 This ad is from 1924