Brua Keefer Co.
Williamsport, PA
#10060 c.1925
This trumpet came up for sale on ebay with the usual bad photos and lack of a good description. It appeared to be in very original shape and not wrecked and best of all was a rare find with the case and all accessories. It included the Couesnon mute which I have now seen with several Keefers so must have been a standard accessory. It also fits perfectly in the case.
Here it is when I received it. The case has a logo that I have not encountered before but the case itself is identical to the one I have for trumpet #25733. The bull's head watermark on the bottom dates this to between 1920 and 1928 and made by the Felsberg Co. in Newark, NJ.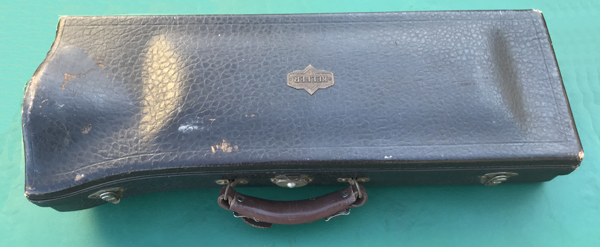 This trumpet was better than I expected as it is nearly flawless and one that I now want to keep. I only found a couple of very minor dings.
Here it is all cleaned up and ready for assembly.
This has a satin silver finish with bright silver tuning slides and gold plated caps.
Even the mouthpiece has a satin silver plating.
Here is a side-by-side comparison view of my three Keefer trumpets. From top to bottom are #10060 JR-2, #25341 Keefer-Williams 1, and K-W JR-2.
One accessory that came with this case is this small oil can. I have found this with other Keefer trumpets so am assuming that this was a standard item. The 1895 and 1897 patent dates made me curious so two hours of searching gave me an interesting bit of history.
Frederick S. Chase of Waturbury, CT received two design patents for an oil can and is listed as an engineer for the Waterbury Manufacturing Co. in 1897. Here is the can and a copy of his patent #25871.
The Chase Brass & Copper Co. was founded in 1876 by Henry Chase, brother to Frederick who later joined him. This grew to be a giant industry and made the brothers very wealthy. It left Waterbury in 1975 but still exists today.
Frederick S. Chase (1862-1947)
His 11,000 sf home at #165 Grove St.
Their new corporate office from 1918