Brua C. Keefer Mfg. Co.
Williamsport, PA
Bb Philharmonic Trumpet c.1926
This beautiful gold plated Keefer trumpet came up for sale and I just had to have it to complete my model collection with one of the best ones ever made. I have only come across a few with the extensive engraving this one has. The only down side was the missing pinky ring that was only used for a few years so very hard to find.
Here it is when it arrived in its original case with mouthpiece and lyre.
It came from an estate near Chicago and was very dirty but the buyer had it professionally cleaned and serviced.
The missing finger ring with just the base left.
Here is what the ring is supposed to look like.
I blew up a photo of this ring and scaled it out to see how large it was supposed to be and found a very close match with a finger ring in my parts bin. I then cut a portion out of the ring to form the open side and carved the base off until it fit on the existing base. A little polishing and it looks really good.
All finished and playing great!
The 1924 catalog says that the No.1 is for the Philharmonic model trumpet. This one has a 0.435" bore and a 4.8" bell. The bell flare and throat are a little large than even the Keefer - Williams model #1 that I have with a 0.458" bore. The serial number dates this to about 1926; a year after they received a patent for the tuning slide adjuster.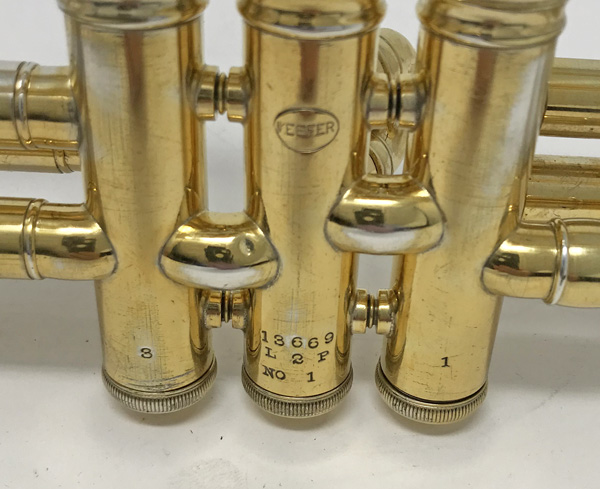 A masterful engraving by Charles Otto.