C. G. Conn
Elkhart, Indiana
New York Wonder Bb/A Cornet
#65210 c.1898
Length = 13.25"
Bell = 4.75"
0-1/2 Bore = 0.418"
I don't often restore Conn instruments but couldn't pass up this one with a beautiful engraving. Conn introduced the Wonder model cornet in 1886 when they purchased the Isaac Fiske factory in Worcester, Massachusetts. Conn received patent #343,888, for the valve design, in June of 1886, following his application in August of 1885. The patent drawing is below.
In 1897, Conn opened a store in New York City and closed the factory in Worcester. The name changed to the New York Wonder and this example dates to 1898.
This didn't look too bad in the auction photos but as I began to take it apart, more problems surfaced. Here it is as I purchased it in 2021. You have to wonder what people do to beat it up so bad. It looks like it got dropped numerous times on both ends.
After some dents were removed.
The beautiful engraving.
Here is everything after all repairs were done. Now I can find out how well this is going to play.
The mute that came with it was in bad shape so I substituted this much nicer one to keep with this.
The original Levy model Conn mouthpiece in gold plate.
What a nice cornet and the valves are still tight so it plays great! The Bb tuning shank is not original as the knobs are wrong and it has a satin silver finish. The A shank is correct and matches others I have seen, so now I have to hunt for a correct Bb one.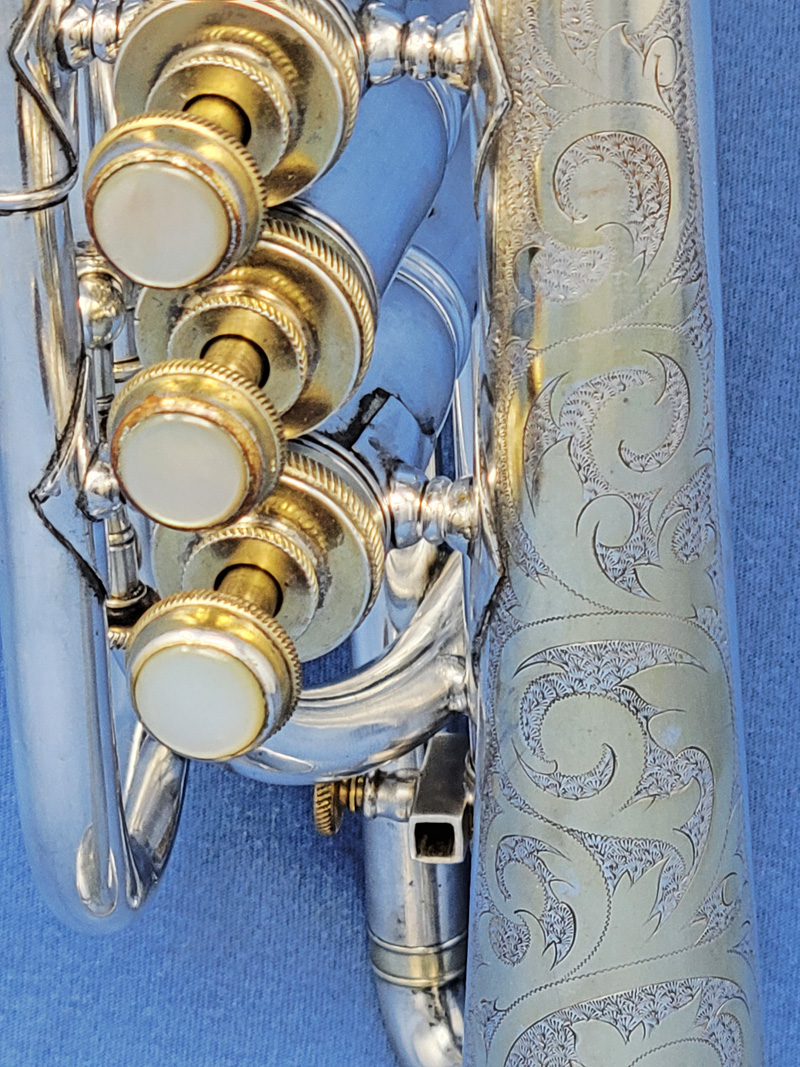 Still looking for an original Conn case but this one will do for now.