C. G. Conn
Elkhart, Indiana
26B Symphony Bb/A Trumpet
#2366xx, c.1926
Length = 19.5"
Bell = 4.625"
Bore = 0.459"
Low Pitch Bb/A
Finish #2 = silver plated w/gold wash inside bell
Original Cost = $90 [$1,369 in 2021]
Rotary Valve #22810
Conn introduced the 26B Symphony model trumpet in about 1921 and produced them until 1931. These all had Conn's 1-1/2 bore which measures 0.459". Here is a catalog image from 1926 along with their description.
I picked this example up from an online auction in very good original condition. It only required some dent removal and repair to the tuning slide water key. It appears that the rotary valve tuning slide was stuck at some time as there are marks on either side of the valve and a dent in the rear loop, indicating that some forece was used to get it out. It came with its original case but without the mouthpiece or standard tuning slide. The only difference between this trumpet and the advertising above is that the second slide angles back instead of straight out. There must have been a design change right around 1925-1926.
Using the catalog image as a guide, I found this "Symphony" model mouthpiece for sale. It was a bit worn but very rare and plays well with the horn.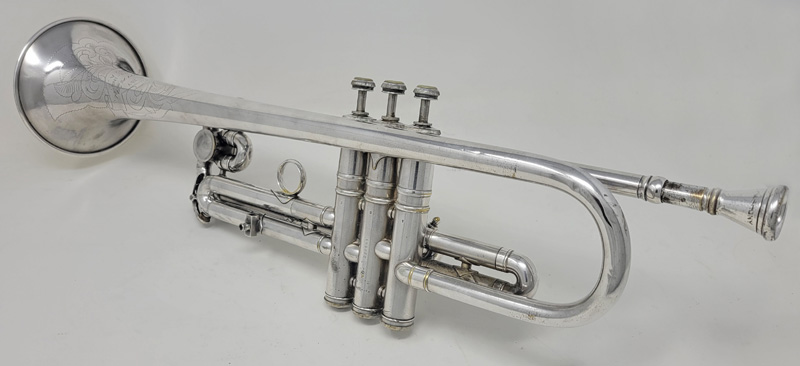 This trumpet plays very well in tune, just like a model 2B that I had years ago. It's also easy to play and hit the right notes. Another high quality, professional horn by Conn.