Buescher Band Instrument Co.
Elkhart, Indiana
Model 211 Bb/A Trumpet
#292057 from 1938
Length = 18.75"
Bell = 4.25"
Bore = 0.438"
Low Pitch Bb/A
Finish: lacquer originally (now raw brass)
Original Cost: $95 [$1,830 in 2021]
Rotary Valve #32943
I'm a glutton for punishment, but I just couldn't help myself with this one. I had recently witnessed one of these extremely rare model 211 trumpets sell in a Goodwill auction (see photo below) and realized how rare and valuable they are. Nobody wanted to bid on this so I sent in an offer and it was accepted. I still paid too much but I just had to try and fix what I called "the world's ugliest trumpet." Here are some photos before I did anything to it.
I just can't imagine what someone did to this to get it in such terrible condition. Just the mouthpiece alone has ridiculous damage and the poor bell is going several directions at once.
The "Pat. Apld. For" stamp here is for the "400" style valve block where the lead pipe and bell are soldered directly to the valve casings. Buescher applied for the patent on February 13, 1937 and received it on October 4, 1938. From my research, this would have been made close to the October, 1938 date as this has one of the highest serial numbers I have found without the patent mark.
After soaking the joints and valves with penetrating fluids for a while, I finally found the time to tear this trumpet apart.
Here is the grand list of problems: dented and bent bell, stuck slides, broken lead pipe, broken springs, missing second slide, missing finger pad, broken and missing rotary valve handle, stuck Rudy Muck mouthpiece, missing third slide water key, bent pinky hook, bent third slide finger ring, frozen valves, and lots of corrosion.
I had a later model mouthpiece so added that to it for now. The lead pipe was so damaged that I ended up cutting it into pieces to get it off. This enabled me to free the main tuning slide but the top, outer sleeve was not moving. To remove that, I ended up soldering a brass bar to the sleeve as a lever then slowly worked it loose from the inner slide. The rotary valve had a dent in the knuckle so I took that off as well. The best part is that the valves all seem to be tight and not damaged in any way. The most difficult item will be finding a replacement finger pad.
Here is what the trumpet originally looked like. This is #292055; only two digits earlier and the only other example of this model that I have found so far. This one is complete with what I am assuming are high and low pitch slides.

[Goodwill auction photo]
Here is a detail on the valves from the 1939 catalog. The 211 is very similar to the 220 Aristocrat in 1939 and used the same bottom sprung valves. There is now no rotary valve in the bell and the first valve slide is offset like the model 225.
The first challenge was to make the bell straight again. Here it is after the initial work was done.
Now after working on it some more and polishing.
The surprise was an engraved name "Owens Harriel". Who was this? A very unusual name that turned up only a few options.
The next part was to go through my parts horns to find the correct matching lead pipe. Here it is all ready to go back together.
Here it is after mounting the bell, lead pipe, and second slide. It's starting to look like a trumpet again! The second slide came from a donor trumpet that had the exact same bore.
Looking better after a bit of polishing.
Alive again! The valves were tight and this played well. Now on to making some missing parts.
After several hours of work, I managed to make a new control bar for the rotary valve. The handle was part of an old trumpet bell brace and the center was a brass nut that was soldered on and then filed down to the right shape.
The other issue was the missing second valve slide. I cleaned up one from a parts horn with the same bore then cut and filed two pieces from an old bell brace to make the knobs.
Cleaned up and ready for assembly.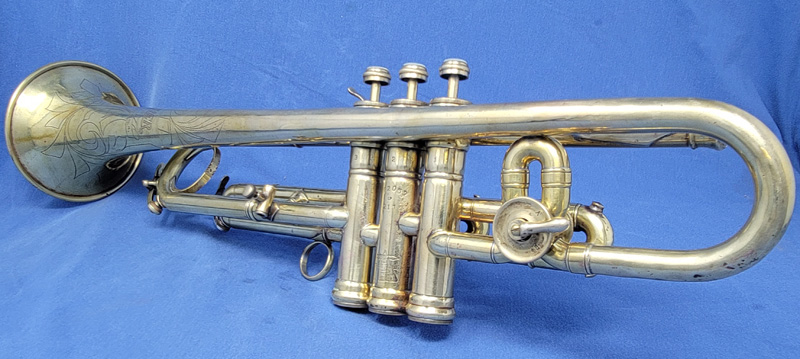 Before & after