Buescher Band Instrument Co.
Elkhart, Indiana
Model 10-22-A Symphony Trumpet in Bb/A
#227023 from 1927
Length = 19.62"
Bell = 4.5"
Bore = 0.443"
Low Pitch Bb with quick change slide to A
Finish E: silver w/gold bell and engraving
Original Cost: $95 in 1928 [$1,500 in 2021]
Here is what Buescher said in 1928 about their model 10-22 trumpet.
"This elegant model is the favorite of the Symphony Orchestra trumpeters and of Phonograph Orchestra players who want a medium bore, and unlimited volume, together with that piercing brilliancy which stamps the trumpet the most heroic of all wind instruments. It lends itself with equal ease to band, orchestra, or solo work, and in all truth is a general purpose trumpet. It has proved its unfailing strength and superb range in color effects, both muted and open."
This trumpet came in overall good condition with only a few dents and lots of grime. The only major issue is that the lead pipe is suffering from red rot and had a bad crack near the inlet. Without a replacement to match it, I ended up adding a silver plated sleeve over the lead pipe. Using a vintage piece allowed it to blend well with the old finish. I just love the engraving and gold plating work from this era. What I did not remember seeing before is that the gold plating inside the bell flair actually wraps around the rim.
Here it is as I purchased it in 2021.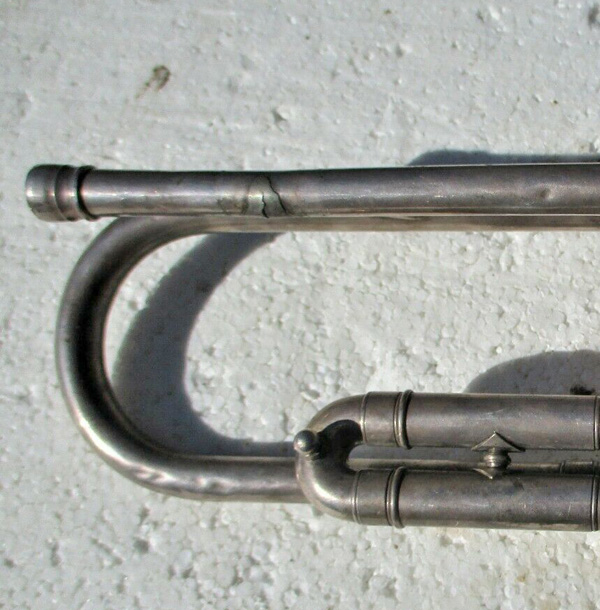 After cleaning up and polishing
Reinforcing sleeve installed over crack.