Jones - Koeder Co.
Pekin, Illinois
Bb Koeder Heraldic Model Trumpet
#1354 from c.1934
Length = 20.25"
Bell = 4.5"
Bore = 0.448"
Bb pitch
Finish: silver plate
It's always fascinating to find an instrument made by a small-town craftsman that very few collectors have ever heard about. TM Koeder is one of those makers, and after many years of researching his history, I was finally able to acquire one of his trumpets. Most of the examples I have seen over the years have been his "Majestic" model; a name he started using back in the 1920s. This one is a "Heraldic" model, which I have never seen before.
TM Koeder worked for various band instrument companies as well as helped to start several of his own companies. Between 1930 and 1934, Koeder partnered with businessman Howard G. Jones, of Pekin, Illinois, to produce brass band instruments under the Jones-Koeder name. Unfortunately for Koeder, he started this venture right at the beginning of the Depression. Like most other small-time makers at this time, the economic woes doomed them to obscurity. The photo below is TM with his wife and grand-daughter Sheila, who provided me with lots of imformation on his life.
Following this, Koeder returned to his home in Naperville, to continue making instruments and doing repairs in his shop next to his home. It's likely that this trumpet was actually made there but given the Pekin marking because of the partnership.
This trumpet is typical of its time, with a long, narrow profile, reversed tuning slide design, and a reversed position for the third valve slide. I bought this in pretty beat up condition, but it was all there except for one pulling knob and the original slide ring.
Here it is as I purchased it in 2022.
One unique feature on this trumpet is this box with a slot for a pin mounted on the tuning slide. This is likely Koeder's way of doing a quick change from Bb to A.
Here it is all apart and ready for the start of a restoration. The main slide was broken when I got it and it was completely stuck. The bell brace was also loose, so I ended up removing all the parts.
The third slide was stuck, and no amount of pulling, heat, or penetrating fluid would free it up, so I ended up taking it all apart and removing one piece at a time. The old grease was so gummed up that I had to use some heat to loosen up each part. Now the challenge is to get it back together in perfect alignment.
This has very short valves due to the narrow 1930s design.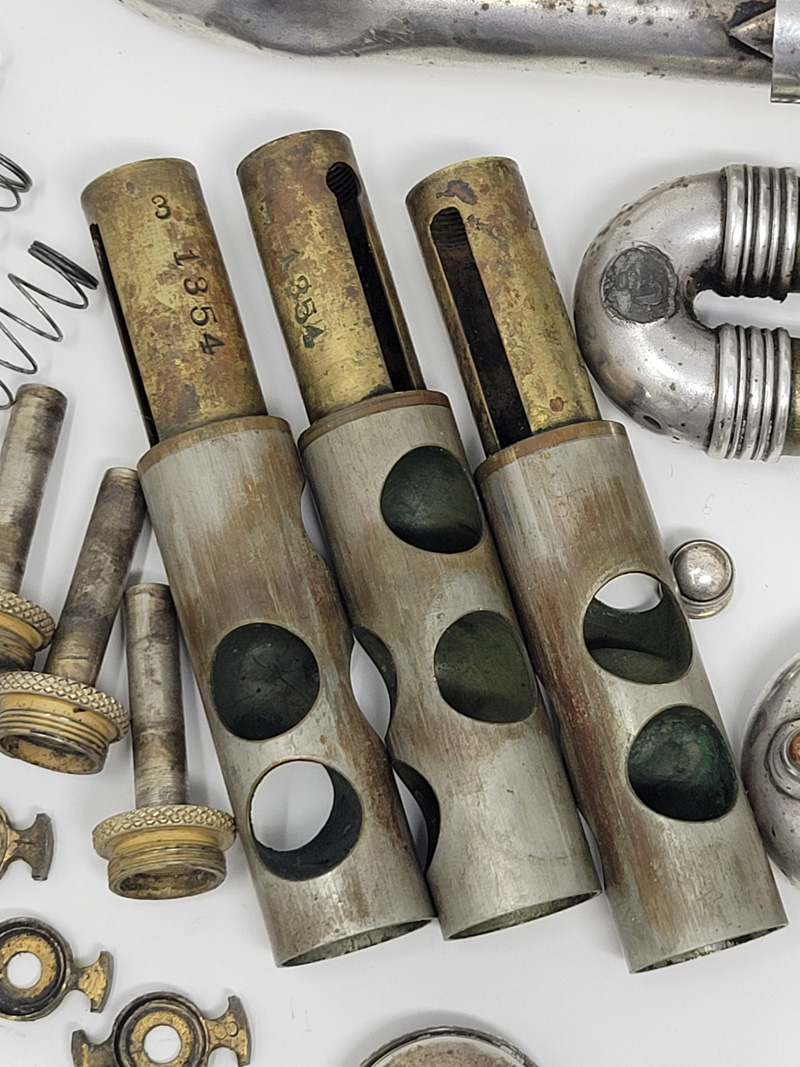 Now all cleaned up and ready for assembly. Will this thing even play well?
This was really well made with a satin silver finish and gold wash inside the bell and on the valve caps and water keys. The mouthpiece is only marked "1" but it has a faint gold wash and appears to be original. It has tight valves and plays really well.
Here is the Bb/A control mechanism. The box rides on a square shaft and the knob on the left will adjust the position of the box. A pin attached to the tuning slide stops the movement when it gets to the right end. I have seen this on at least one other Koeder trumpet and it must have been his own design.