F. Besson
Paris, France
Bb Model 125 Trumpet
#95460 from c.WWII
Length = 19.3 "
Bell = 4.68"
Bore = 0.458"
Bb pitch
Finish: lacquer
One of the "Holy Grails" of the trumpet world are the Bb trumpets made in Paris by F. Besson. The best ones are said to have been made before WWII, but there are still some good ones made just after the war as well. After many years of looking, I bought this one for what seemed a bargain price. The main issue with collectors is the controversy about when these were actually made.
Some say that you have to have a serial number in the low 90000 range to be before the war, and others claim purchases in 1945 in the 96000 range. This has all the features of the pre-war version except for the added third slide water key, which has a completely different style than the one on the main slide. It has been said by one expert that these were added by Couesnon after the war, once they took over production. Later trumpets, almost certainly made by Couesnon, had serial numbers 100000 and up. These sometimes have a wider wrap, a top-mounted third slide ring, and often carry the "Meha" model name.
This is currently in its original, unrestored state, and thankfully looks to have never been damaged beyond a few small dings. Here are some photos as I got it. A few minutes of maintenance, and this was playing great again.
Probably the original mouthpiece.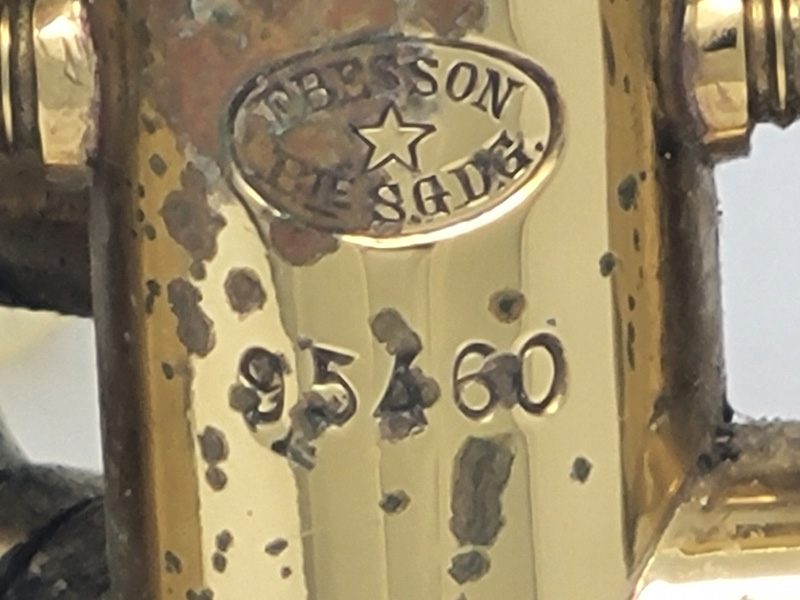 This shows the two different water keys,
Here is the case it came with dating to the early 1950s.
The tag was added by the original owner, Ted Riddle. He lived his life in Herrin, Illinios and is said to have been a good jazz trumpeter who played in many local venues.
Here's a photo of Ted from his obituary in 2021.
These schedule books came with the horn and one dates to 1965. He was playing every Saturday night and kept these lists of numbers to play.
The original warranty card shows that this was purchased in San Antonio, Texas from C. Bruno & Son. This store was started by a former employee of Bruno in New York, who moved to San Antonio and started a branch store. They moved to the 1100 Broadway address in 1950, so this trumpet would have been purchased after this. Ted Riddle was a Korean War veteran of the USAF, so it's likely he picked this up when he was stationed there in the 1950-1954 period.
This shows it as the model 125, which is also the designation found in a 1958 Besson catalog from Bruno.
This is the 1100 Broadway store in modern times.
I decided to strip the old lacquer and hand polish this. After weighing each horn in my collection, this one wins for the lightest weight at 33.35 oz.