Rudy Muck
New York City
Professional Bb Trumpet
#33225 c.1938
Length = 19.25"
Bell = 4.69"
Bore = 0.468"
Weight = 37.8 oz
Finish: raw brass with some silver or nickel-silver plated parts
Original cost in 1937 = $187.50 [$3,930 in 2023]
In 1936, Rudy Muck opened a factory and showroom at #125 East 126th Street in the Bronx with the plan to build trumpets as well as his already famous mouthpieces. This was a well-attended event.
The first trumpets produced in the Bronx follow the pattern of the Blessing Super Artist model. The valve block, receiver, tuning slide bracing, and third slide set up all match the Blessing. This style shows up in advertising from 1937 through WWII.
I had a conversation with Rudy Muck Jr in 2019 who said that Carl Blessing was a friend of the family for many years and although he could not confirm that they were the source, he thought it was certainly possible.
1937 Down Beat ad
That price back in 1937 would definitely have been for the professional.
1937 Down Beat ad
Here's the trumpet as I purchased it in 2023. The only bad damage was the cracked lead pipe.
The lead pipe was too bad to save so I found the correct taper from a parts horn. This one's got a higher copper content so should be better to keep the red rot away.
This serial number fits with being a Blessing from 1938. The valve guides are also the Blessing patent type.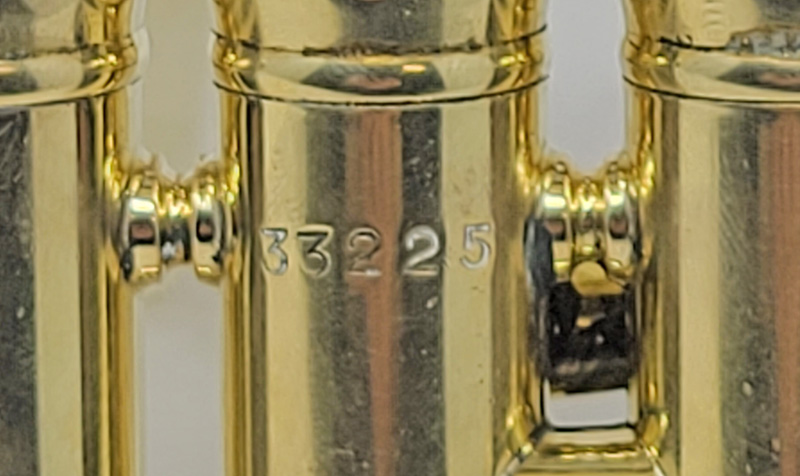 The first bell engraving was a simple US outline with his name.
These thin valve buttons help them to be light and quick. Thankfully, the valves are still tight.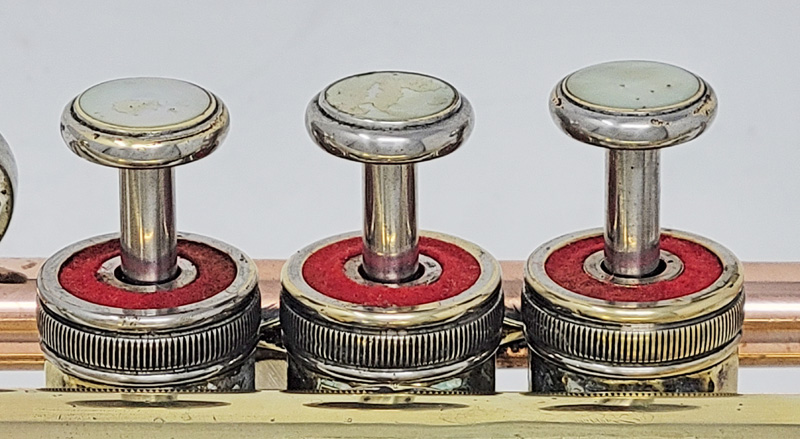 Here is the Blessing third slide in comparison from #34907. This appears to be the exact same design; even the water keys and slide branch brace.
Here is the Blessing tuning slide view from #34907 then #42197.
By this time, Blessing has changed some of the design elements.
Rudy Muck ad from distributor Tonk in 1937.
Another 1937 Tonk ad.
1939 Muck brochure with Rudy holding the same model trumpet.
1939 photo appears identical to mine.
1939 Rudy Muck biography
1939 Catalog player endorsement.
1939 Down Beat ad
Another 1939 Down Beat ad.
Two more ads from 1940.