E. Domage
Philadelphia, PA
Bb Cornet
#217 c.1917
Length = 15"
Bell = 4.69"
Bore = 0.468"
Weight = oz
Finish: Silver-plated with gold plating on valve caps and water key.
Having a brass history website has allowed me many opportunities over the years to come into contact with people from all over the world. Janet Breuel of Shelton, Washington contacted me in 2023 regarding their family cornet that had been passed down from her great-grandfather Frank Smith. She was interested in learning more about the instrument and finding out what her options were in preserving it. At the time, it was not playable due to damage and a missing mouthpiece.
In the end, I decided to purchase the cornet with the promise of restoring it for display in my own collection and preserving it for future owners. It always makes an instrument more special when you know who has owned it before you. Following is what we have been able to put together about it.
Frank S. Smith (1881-1954) was born in Bay City, Michigan, marries Mary (Mae) in 1903, and soon after moves to Mason County in Washington. Their son Frederick was born in 1904 and the photo below shows the family in 1910 at their home on Cloqualum Rd.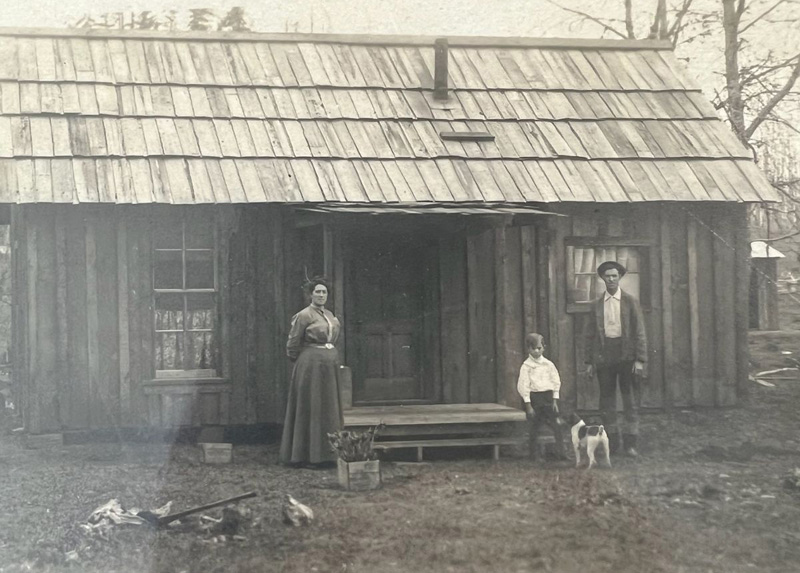 Smith was an accountant for the Port Blakely Timber Company shown below.
At this point in the story, we switch to the east coast, and the music shop of Eugene Domage in Philadelphia. Domage was born in Paris in 1872 and emigrated to Philadelphia in 1892. He worked in the brass industry and by 1902 was listed in the Philadelphia City Directory as selling musical instruments at 922 Mountain Street.
In 1907, Domage moves his store to 830 Callowhill Street and is running an ad looking for used band instruments. He likely continued this business until the Depression hits, and by the early 1930s, he had moved to Florida. I haven't found that he opened a new store there but in 1940, he is still listed as a band instrument maker in the US Census.
A clue to when cornet #217 was made is in the bell marking. This scratched out area on the rim is "USQMC", which is for a WWI military contract with the United States Quartermaster Corps. It would seem unlikely that the US would contract with such a small producer, but perhaps their options were limited at that time in Philadelphia.
At some point after the war ended in 1918, this cornet ended up being purchased by Frank Smith. The family has not found a connection to a war veteran but it could have been someone who worked for the mill. I have seen many instruments marked this way but never one that was scratched out like this. Perhaps they were trying to hide the fact that it was an ex-military instrument.
Perhaps after Frank's death in 1954, this cornet was next in the posession of his granddaughter Margaret Mae Smith (b.1925). Her daughter Janet said that she played this in 8th grade band around 1958. Janet is pictured below with Frank and Mae in 1947.
After this, the cornet travels around various family members until it comes back to Margaret Smith and gets stored in her closet. In 2023, it is pulled out of the closet and sent to Florida for restoration. It seem fitting that the Domage cornet has finally followed its maker to Florida some ninety years later and reunited with a Domage mouthpiece.
Here is the cornet as it arrived. A bit bent up and a few loose pieces but it appeared to be all there.
Some views before any restoration is started. At this point, I have added a Domage mouthpiece that I have had for a number of years. I never dreamed that I could put this together with a real cornet as I have only seen one other example in over twenty years of collecting.

This bell and lead pipe have both been bent to odd angles from many years of use and abuse. If the cornet could only talk about all the events!

A pretty severe blow that will be hard to get out completely.
The bell tail has been pushed against the first slide, making it impossible to remove. It has also caused the first valve to stick since the valve casing has been warped.
Here's the mouthpiece marked for Domage.
This may have actually been made by another Paris-born immigrant, Ferdinand Coeuille. He worked in Philadelphia and may have sold his cornets and mouthpieces through Domage.
After many hours of work, here is the cornet all disassembled. The slides were badly stuck and two had to be taken apart for removal. At this point, I have done some bell straightening and dent work. The lead pipe has also been straightened. For a 1917 cornet with a modern, long design, this has a valve spring design from the 19th century.
The first repair was to solder the spring base back on the music lyre. Thankfully the small tab that had broken off was still with it. Someone had tried to solder it back on but this will never work without a harder silver-based solder and higher heat.
Good for another 100 years!
Project two was to make a new slide knob for the third slide on my lathe. At this point, it still needs a little shaping to match better. This close-up shot shows that even the original was left with lines from the lathe tool.
After polishing and more dent work. Now on to repairing some of the missing silver plating.
All finished and back together. Two valves proved to be problematic and needed some more work. The first valve still sticks occasionally and is very sensitive to pressure against the bell crook, which can make the valve stick.
The bad dent in the lead pipe came out well.
The top and bottom caps are gold-plated and the finger buttons are nickel-silver.
The mouthpiece looks better with some polishing and light silver-plating.
The scratched area looks a little better with some spot silver-plating.