William Frank Co.
Chicago, Illinois
The Classic model Bb Trumpet
#7901 c.1926
Length = 19-3/8"
Bell = 4-1/2"
Bore = 0.468"
Weight = 36.2 oz
Finish : Satin silver plated with polished accents and bell engraving.
My first cornet was an inexpensive used horn that my parents bought from a friend. It had no maker's mark on it and came with a trumpet case that didn't fit it. That was all we could afford until I got to college and bought a nice used Yamaha trumpet from another player. Many years later, after starting my brass instrument research, I finally matched it to an American Prep model by William Frank Co in Chicago. Even the mouthpiece matched those from Frank but was not marked either.
That instrument is long gone and I later bought two Frank trumpets made in the 1950s in Barrington. One had peeling plating on the valves and the other was so poorly built that the tuning slides were not the correct length. Needless to say, I avoided his instruments for quite a while until I found this Classic model at an internet auction. I decided to try out an earlier vintage horn and see what his best model from the 1920s sounded like.
Here is the trumpet as purchased. Very tarnished, a stuck second valve with missing bottom cap, a severely damaged second slide (hence the stuck valve), and a missing rear bell brace with both the lead pipe and bell bent toward each other.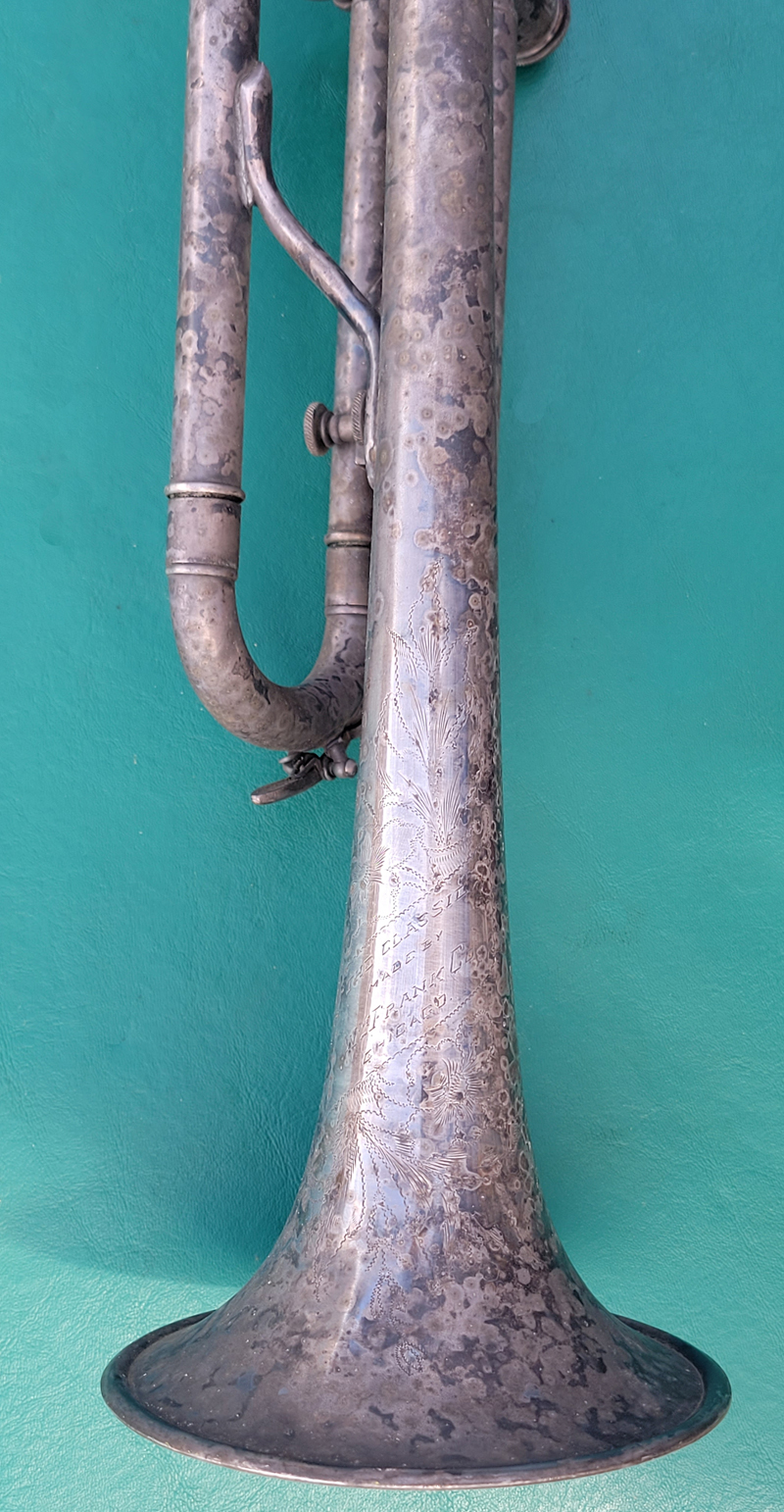 All apart and the slides all pulled fairly easily. Someone must have maintained this until the damage occurred. At this point, I have found a close match for the rear bell brace, straightened the lead pipe and bell, replaced the second slide knuckle, and found a nice set of bottom valve caps.
The most difficult part of the restoration was dealing with the second valve. The trumpet was dropped on the slide which caused the valve casing to warp and the valve to stick. Someone took the bottom cap off and hit the bottom of the valve in an attempt to get it out. After that, it sat for many decades until I bought it. Thankfully, Frank built the bottom of the valve pretty strong as they didn't break it, but they did warp the valve a little. When I got it out, it had a slight bannana shape and I had to straighten that before it had a chance of going back in. I also had to push the second slide to the rear to take the warp out of the casing.
Back together and it really has a nice sound.
The bell has some faded gold wash.
The valves are unplated copper and have a slight leak but it still sounds strong.
An uncommon first slide saddle.
This has a bracket for probably a Bb/A quick-change rod with an unusual square shape.
I picked up a Frank #21 mouthpiece that plays really well and has a wide rim. This design is from a later period but the earlier ones that match advertising are really hard to find.
Here is the trumpet with the mouthpiece.