William Seefeldt Bb Cornet #4562
Philadelphia, Pennsylvania
Here is a rare cornet made by the Seefeldt Musical Instrument Manufacturing Company in about 1900. It looked pretty rough when I got it but mostly that was due to the severe tarnish to the silver plating. I thought there might be some bad plating areas but was not sure until I cleaned it up.
The bottom tubing on the tuning slide has such a different tarnish that I would suspect that it had been replaced at one time. I does look original though.
It may look nasty but I could tell that it was all there with nothing missing. After three rounds of polishing I was able to get it looking good again. There are some areas of worn plating but it plays pretty well. I was surprised at the very modern looking valve springs that are internal on top with a triple tooth valve guide. With some new corks and a good cleaning, this old cornet is working again.
The only missing part is the broken off lyre holder. The first mystery with this horn is the presence of two mounting tabs on the lead pipe for what? They appear original and even have the decorative backing plates.
The second mystery is the name "Albert Schweigart" on the bell. He was likely the original owner but I have found no trace of a musician with this name.
When I got this, I had never seen another cornet with the decorative plates that this has with the sea shells or fans. Very unique. By the time this cornet was made, William Seefeldt may have been semi-retired and doing custom work so perhaps this was made by his hand. The instruments that I have come across so far don't seem to share much for design styles but perhaps over time I will see a pattern emerge once I see more of them. (read update below)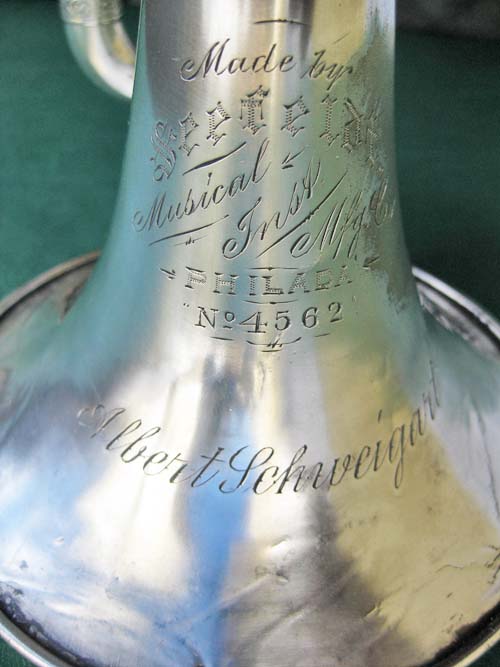 In 1876, Seefeldt had a display at the Philadelphia Exposition and below is a photo of their display and a card that came out later with comments from famous players of the day. Also an ad that went in the show catalog.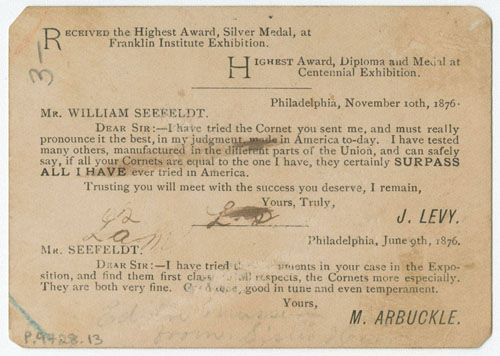 Since restoring this cornet I have now come across two more with the exact same design which throws more questions over this one. The next one found is labeled "Carl Fischer" (below) and is covered in a later restoration page. The third one (below that) is labeled for Aschbach of Allentown, Pennsylvania.
Since Fischer was just an importer, it would make sense that these are all from Europe. The last piece of the puzzle was recently sent to me showing B&F model #2 cornet made in Austria. This is a copy of the Courtois Arban model. Except for the plain connectors, this looks like the same horn and if you look at one of the close-up photos of the Seefeldt cornet above, it does have the #2 on the second valve. Even the single band on the valves and lyre holder are the same.
The question then is how many of Seefeldt's instruments were imports? I have tried gathering photos of all his instruments that I can find and so far see no pattern to their design, indicating a possibility that at least some were imported and marked with his name.