Boosey & Co. Bb Cornet
Patent Compensating Pistons
London
Here is an interesting cornet that I picked up in what was described as "rough" condition. Missing parts and well used, I took my chances on even being able to restore this. I have never played a Boosey cornet before but had been looking for one yet never expected to get one of their compensating models.
Here are some before photos to show you what I was up against. The lead pipe and tuning slide are actually broken off and just setting in place for the photos.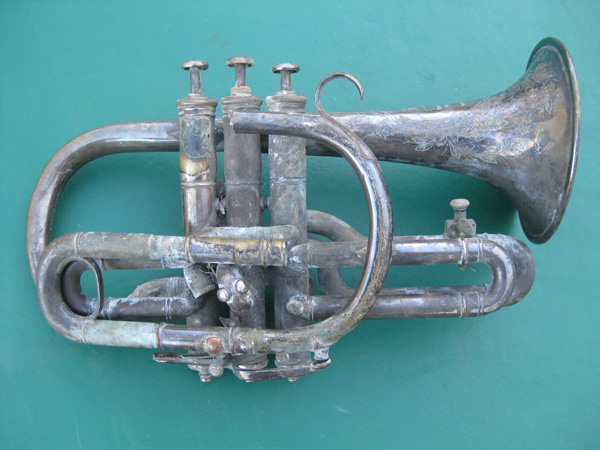 The serial number 49003 on the bell gives this a date of c.1897 and the bell inscription shows that this was a patented design. The patent dates back to 1879 when Boosey employee David Blaikley worked out a method of re-routing the air through longer slides when the first valve is used in combination with the second and third valves. This brings notes back into pitch without having to move the third valve slide out manually every time like we do with all modern trumpets or cornets. The trade-off is extra tubing and expense in building it. Below is a link to the Blaikley patent.
One mystery to solve for this cornet is the name on the bottom edge of the bell. I am not certain of the first initial but I believe it reads "G A Higham" then below that "Hull". At first I though it may have been sold by Joseph Higham, a prominent instrument maker in Manchester but it is unlikely since they were competitors. Hull is a city on the east coast of England on the River Hull and Mr. Higham was probably the first owner.
He must have really loved the horn as the plating wear would indicate lots of use. I did some research and found a George W. Higham living in Hull from 1872-1941 so at least I know the family name was in that area. How it came to America is something I hope to be able to trace.
Here is the cornet all apart. It was a bit of a fight with the slides but eventually they all came out. Problems included all slides stuck, two pistons stuck, one replacement finger button, bent bell with broken brace to third valve, broken lead pipe with missing first valve brace and socket, missing curved pipe from tuning slide to first valve, solder-filled dent and crack on connecting pipe, and numerous small dents.
When I took the bell off I heard a rattle in the bell and determined that there had to be something in the narrow end. Thankfully I didn't push a dent ball in there before finding this out. Using a magnet I found that it was steel but shaking it would not allow it to come out. I then used the super magnet from my dent removal system and got it to move out a little before stopping again. I then used my dent ball cable, with several balls so there was no slack, and inserted that in the small end to push the object out. Turned out to be a 1/4" x 1" hex head bolt. If that had been stuck it may have been trouble to remove.
A parts cornet was used for the lead pipe and if there was another 1/4" of the original pipe more then I could have avoided the ferrule but no such luck. It shouldn't look too bad once polished but the silver plating has a slightly different color. The main problem was the missing curved pipe. I saw that the donor horn had a shape that was close but the only way to tell was to cut it off and try. Thankfully it had the same bore so I knew it had potential to work.
The next photo shows the lead pipe and curved pipe installed. The only down side is that the curved pipe had to be installed upside down from its original position which gave me an old water key hole to fill in.
Here it is all back together before cleaning and polishing. I also had to re-mount the water key, drill a new hole and add a donor spout. A patch was added over the old hole and another was added on the other side over the crack someone had filled with solder. They had even left a bad dent in place and just filled it in. I bet that did wonders for the sound. This was also missing the tuning shank so I got one from my parts bin that needed a new base and added that.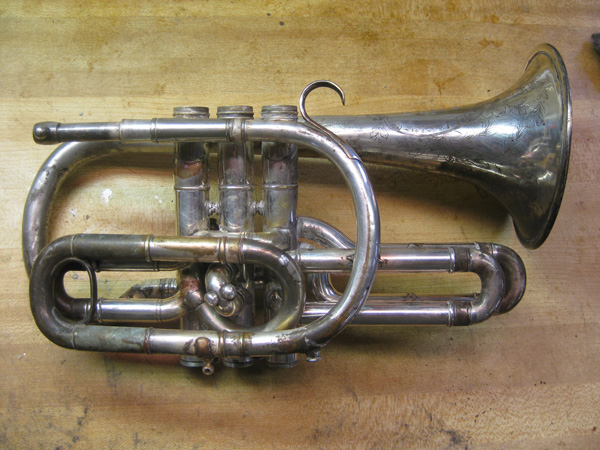 Now to clean it up and see if I can get it playing again.
All cleaned and ready to put back together.
New corks, felts and valve alignment and it's ready to go. Thankfully the valves work great and it plays fine.
Here is a close up of the new socket and coupler. The cross brace is slightly different than the other but not too bad. Below is the added curled pipe with a little patch over the old water key location. It even has a nice antique finish to match the rest of the cornet.
I was restoring a period coffin case at the same time and decided to give it to the Boosey cornet. Fits very well but no wiggle room with those tall valves.