K. Allmen Co. Bb Trumpet
Queens & Brooklyn, New York
c.1950
When I came across this trumpet at an online auction, I had no idea what it was. I was just curious as the name was not familiar and it was in bad shape so it looked like an interesting project. After doing a quick search, all I found was that the few owners out there loved them and that Allmen was somehow connected with Vincent Bach. Here is my trumpet labeled "Star / K Allmen Co / New York / USA" with serial #193.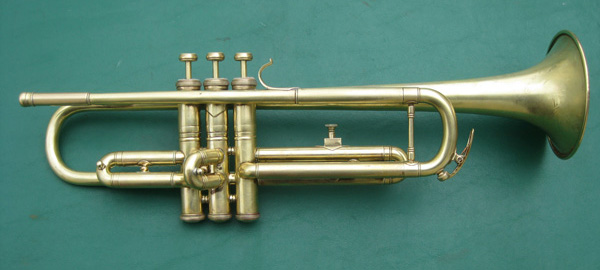 I found a few other Allmen trumpets online from old auction sales and discussion boards and the stories about these had quite a few variations. They said that his name was Allmendinger, that he worked for Bach as a foreman, that these were made using Bach valves and tubing combined with Allmendinger's lead pipe and bell, that Bach was his half-brother, that he made about 1,500 total trumpets, that these were made in the 1920s and 30s, and that these were made after the Bronx factory closed. The problem is that these were stories with no documentation.
Once I started doing some research, here are some of the facts that I could find:
1. His name was Karl Allmendinger.
2. He lived from 1910-1989.
3. He was born in Germany and immigrated to the US in 1926 with his parents.
4. His immigration paper lists him as an "iron turner".
5. In 1939 he was living in Queens and received his naturalization.
6. The 1940 Census lists him as a mechanic working for a gyroscope company (probably Sperry Corp.).
7. In 1944 he was living in Brooklyn.
8. He was married and had no children but I was able to find a distant relative who met him a couple of times and knows that he had a hobby of making instruments. He knew of no connection with Bach.
9. Bach was 20 years older and from a city in Germany that is 300 km away from where Allmendinger came from so the half-brother story is very unlikely.
Here is the trumpet as I bought it.
You just have to ask yourself, "What did someone do to this horn?" The lead pipe had an S shape, the bell was angled down, and the cross brace from lead pipe to bell was missing. What a mess.
Here it is after restoration. The missing cross brace was easy to duplicate with some solid round brass stock I had. One of the bottom caps doesn't match but it's close enough that it's not overly noticeable.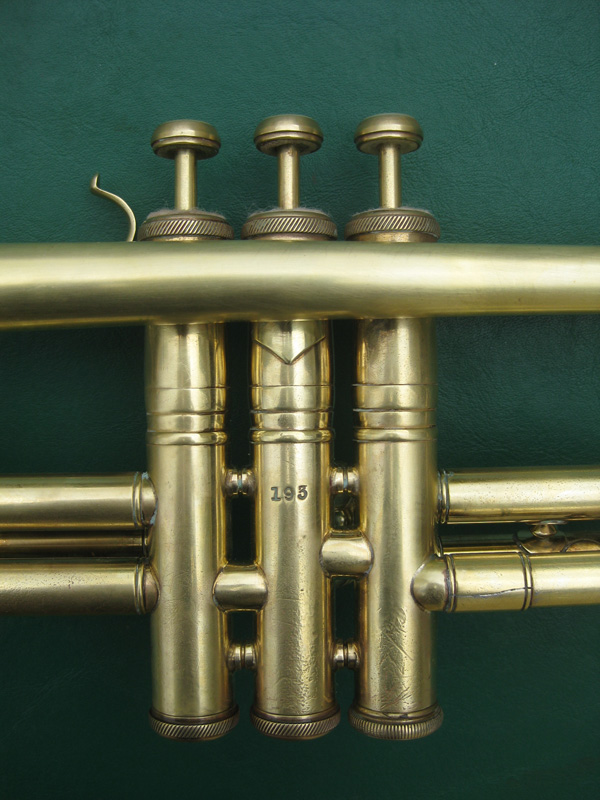 Serial #193 is the lowest by far of all that I have found images of. It looks like it was used for years by someone who liked wearing rings. You can see similarities with a Bach but also subtle differences which lead me to believe this was a well made trumpet that was just using a Bach for a guideline. This has bottom-sprung valves which Bach didn't have but also the valve casings have a different pattern in the center. Below is my 1967 Bach which is just a little different.
The top view shows the old Z-brace in the front with my new one in the back.
Here is the valve which is a design that I have not come across before. The stems are marked with the same serial number.
If you have any Allmen trumpet, please send me photos and information so I can add it to my database. Email to jrpatton68@earthlink.net.