Martin & Co. Cornet
New York
c.1872
Here is a really ugly-looking cornet that I picked up on an internet auction. This was my first time buying an instrument made from German silver so I wasn't entirely sure what I was getting myself into. I knew that this metal tends to crack easily and this horn was no exception to the rule. From the listing photos you really can't see the cracks but close up there are plenty. Every place the horn was dented it resulted in cracks. Will I be able to revive this?
The positive side was that aside from the bell, this was not badly damaged. It was missing one screw for the second valve but otherwise complete; including the pigtail crook and mouthpiece.
Here are some views as I bought it.
I can just picture this thing in a damp basement or in an attic with mice living on it.
It looks like the steel bead wire and the nickle silver weren't a good combination.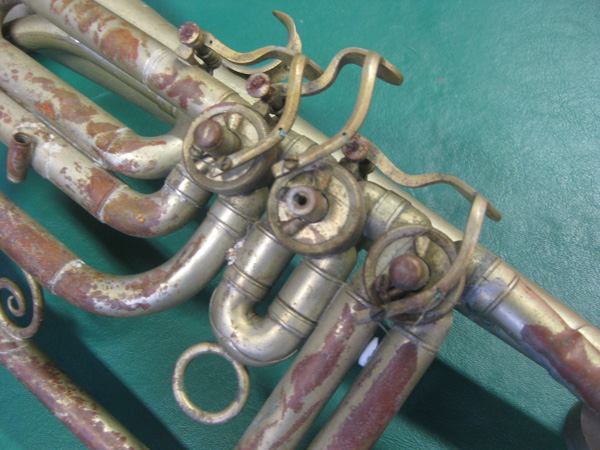 Two things help date this cornet to 1872. The name "Martin & Co." was only used for that year and they opened their new facility at 31 Cortlandt Street that year. By 1873 he was joined by August Pollmann and they started using the name "Martin, Pollmann & Co.".
The next photo shows the initial tear down. I always try to minimize how many parts are removed but this one needed attention all over. All the slides were stuck and the mouthpiece and tuning crook were jammed in tight. Here the bell is straight again but the damaged area has numerous cracks that will need a patch. Two of the tuning slides had to be taken apart in order to remove them and the third slide has seam cracks on both straight sections. I love the little scroll braces.
Below are the same pieces with repairs and a good cleaning. I will save the patching until after it's assembled back together again.
This is the worst of the cracks on the bell curve. Every dent produces cracks and since there are so many on this section, I will probably make one long curved patch to cover them all rather than multiple pieces.
Besides the torn rim, this whole area is laced with cracks. Hopefully one patch on the inside of the bell and wrapping aroung the rolled edge will be enough to stabilize this.
The lead pipe is also covered in cracks so I have kept the clamp on until done so it won't move when heated next to it. I will have to fashion a patch that winds around the two cross braces that attach to this section.
The main tuning slide had both tubes cracked along the old seam so I am saving the old ones yet using two brass replacements from the parts bin. Since the originals were shorter than needed, I made these a bit longer so there is no gap inside when fully inserted.
Here it is back together and patched.
Valves working again with a brass screw in place of the missing one.
The original mouthpiece