J W Pepper Bb & A Cornet
Premier Model
c.1894
Here is one that I picked up in 2016 and even though it looked pretty black I could tell that this was in amazing condition and had great engraving and gold plating. On top of this, even without a case it still had two complete sets of tuning slides and shanks for high and low pitch Bb and A.
Here are some views as I bought it.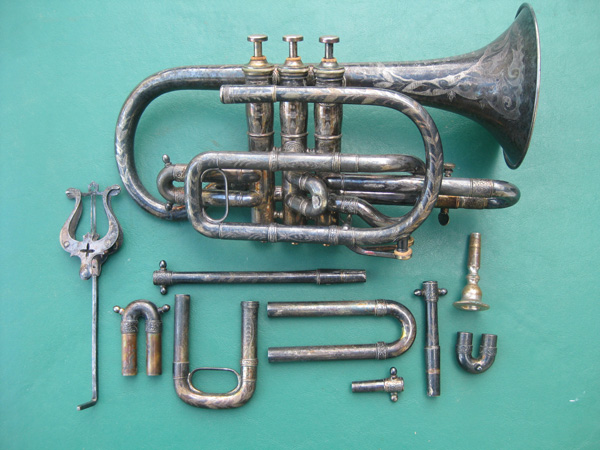 The serial #8854 is very close to the number on the original Sousaphone made by Pepper in 1893 so I am dating this to 1894. What helps is the Chicago medal marking from 1893 and the fact that the Chicago store is still listed.
The Premier model was one of the few actually made in Philadelphia in Pepper's factory and was their most expensive line. The extensive engraving and gold-plated parts also added to the cost. This would have originally come with a case but sadly that is long gone.
The surprise came when I tried to play this and couldn't get the first valve to move even though the spring was moving the rod up and down. Taking it apart revealed a broken valve and badly dented threads which must have been done with the bottom cap off. File marks on the valve showed that someone tried to fix it. Thankfully all it really needed was to be soldered back together in the correct alignment and the bottom threads smoothed out as best as possible.
Here it is a few hours later all cleaned and polished. The only missing part is one knob on the 2nd valve slide for the high pitch set. The gold plating cleaned up nice and is not too worn off which is usually the case after many polishings. It did not come with a mouthpiece but I did have a Pepper one that happily was also marked "Philadelphia and Chicago" so it matches the era.
The amazing engraving even includes a small lake scene with sailboat and bird.