John Heald Co. Bb Trumpet
Premier Model
Springfield, Massachusetts
c.1915
Here is a rare trumpet made by John Heald of Springfield, Massachusetts about 100 years ago. Serial number 37,987 dates this to the mid-teens and is the earliest one that I have found where the inscription changes from "John Heald Maker" to "John Heald Co. Makers". Perhaps he had a large enough operation by then to have workers making the trumpets for him.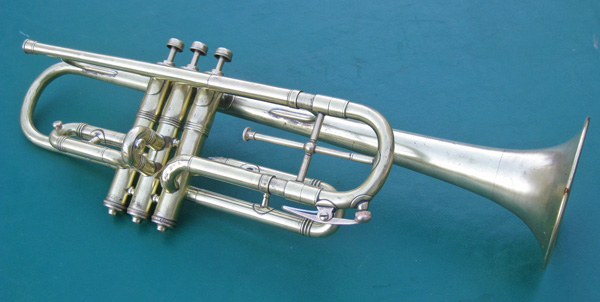 This one was in rough shape with a badly dented bell, stuck valves and several old patches. The challenge ended up getting the first valve out as it seemed completely frozen. I used an old cornet valve from a parts horn that had a nearly identical diameter to try and tap it out following penetrating fluid but that did nothing. I ended up heating the outside then moving it a short way before it stuck again. After repeating this several times, it finally came out. I found that a black goo had flowed through the lower port and hardened around the lower end of the valve. Heat softened it up enough to pull it out.
Here it is as I purchased it; complete but banged up.
Now all apart. The bell looks a bit curved.
Now back together again and playing.