C. G. Conn Wonder Solo Cornet
c.1899
I should have passed this one up but with the name of the original owner inscribed around the bell rim, I didn't want to see it end up in the trash heap. This very abused Conn cornet has serial number 21512 which dates this to about 1889. It is a Wonder Solo model and would have originally come with tuning shanks for Bb and A as well as a second tuning slide that would allow this to play in C. What was left was just a body missing some pieces.
Here it is as I purchased it.
Here it is all torn apart and ready to see what I have to work with. You can see on the slides two marks for adjustment to playing in Bb or A. There were several blobs of solder that turned out to be filled in dents! I got lucky there as I was afraid I would uncover cracks.
Here it is all back together and playing again! A friend donated the period water key and some missing knobs and I used a spare Bb shank and period mouthpiece to complete it.
There are still a few rough areas but it's still functional and playable.
Here you can see the bell inscription "F. L. Hinkly Luverne Minn." which I assume is the original owner's name. I spent the next few days doing a bit of research on Mr. Hinkly and here is what I found. Frank Loraine Hinkly was born in 1873 to Dr. Benjamin and Emma Hinkly in Clermont, Iowa. The family moved to Luverne, Minnesota in 1888 where Benjamin set up a practice as a doctor. They must have purchased this cornet soon after for young Frank to play in a local band.
When I inquired at the Luverne Historical Society about Frank they really didn't have any more information on him and had no record of a band at that time. His uncle was a mayor of Luverne at one time and has a historical home now owned by them.
In 1896, Frank marries Jessie in Luverne and is said to be a stockholder and director of the Luverne Gold Mining Co. in Bourne, Oregon. Soon after he must have decided to become a doctor like his father since he graduated from Cooper Medical College in California in 1899. By 1900, he is practicing in Redding, CA and is planning to start a Sanitarium there. This must not have worked out since by 1901, he has moved to Lewiston, Idaho where he works until at least 1906.
The newspaper ad below is from the 1903 Lewiston Teller.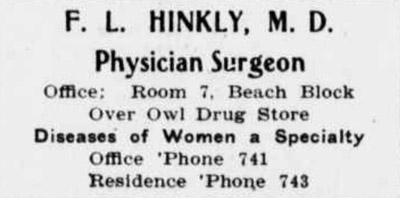 After this he starts to move around a lot. He is in Brownsville, Texas in 1911, Detroit, Michigan in 1916, Pittsburgh, Pennsylvania in 1918, San Benito, Texas in 1930, Arteria, New Mexico in 1935, Brownsville in 1938, Torrence, NM in 1940 (now widowed), then finally back to Brownsville where he dies in 1957. At least part of this time he is working as a doctor for the Civilian Conservation Corps.
If I could only go back in time to see where this cornet went and why it was so abused. How long did Frank have it? Where did all the extra pieces go? By 2017 when I got it, it had traveled to St. Charles, Illinois.
Here is an ad for the Wonder Solo Cornet
Here is another Conn cornet with the same engraving so likely done by the same person. This is not an uncommon style found on cornets from this period. This one is #28048 from 1890 and is in Eb.